Have you given any thought to wellbeing holidays in the UK?
When you imagine a restorative retreat, you might have visions of flying out to far-flung destinations such as Bali or India. But there is in fact no need for a long-haul flight when craving some rest and headspace. Indeed, beautiful Exmoor provides the perfect backdrop for a wellbeing holiday, and our cottages guarantee rejuvenation.
Family wellness holidays
If family wellness holidays are on your collective radar, then Exmoor Character Cottages is simply the perfect destination. Each of our cottages is ideal for family gatherings or large groups. If there are very tiny people in your clan, then we cater for them as well. We also cater for four-legged fur family members – we think everyone in the family deserves a wellness holiday!
Six ways to wellness
Here are six ways to make your holiday at Exmoor Character Cottages a wellness getaway. Indeed, our cottages make wellbeing holidays in the UK a very attractive prospect!
1. Make the cottage your own day spa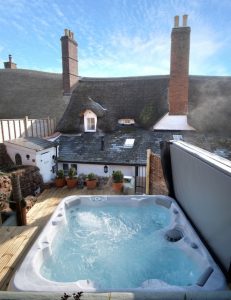 Our glorious bathrooms and en-suites will pamper with super comfy towels that ensure a soothing and relaxing experience. The hot tubs in our three cottages in Minehead are the perfect opportunity to unwind in a beautiful setting, and soak away stress and aching limbs. Even better when enjoyed under the stars!
2. Indulge in a treatment in your cottage
Our experienced therapist Hannah offers a bespoke range of on-trend manicures, as well as sculpted extensions – all from the comfort of one of our cottages. Using premium beauty brands, she offers her vegan gel polish on natural nails and provides infilling. Whether you want to look glam for a romantic holiday dinner out or feel extra special for a night in, there's nothing like a manicure to help you relax and chill out.
Put up your feet and indulge in a pampering massage or facial with beauty therapist Jenny. Her professional experience includes working in some top spas, and as a make-up artist for TV, stage and film. Jenny will come straight to your cottage door for all your pampering needs. Both Hannah and Jenny are available for our guests seven days a week and will be as flexible as possible to your party's wishes – but please book as far in advance as you can.
3. Wellness breaks to stretch your legs
Wellness breaks don't have to mean a vigorous session at the gym. Why not use up your energy for long walks in Exmoor? The beautiful national park lies right on our cottages' doorsteps and provides an excellent opportunity to stretch those legs. If you exercise whilst also soaking up the beautiful scenery, you may even see a deer or two! All around Exmoor are some glorious meanders. Take a look at our very own 'Little Book of Walks' in the cottage for 12 great self-guided walks.
4. Rediscover the natural world on your wellbeing holiday
The natural world can provide the perfect wellbeing holiday pause from your busy life. A Swedish study found that the more city dwellers visited the countryside, the less they reported stress-related illnesses. Exmoor provides the perfect opportunity to immerse yourself in the natural world, whether that's going for a hike or a relaxed drive around taking in the scenery. Then again, if you are more of a stay-at-home type, our gardens are the perfect place to relax with a good book, a cup of tea or glass of wine!
5. Wind down before bed
After switching off your gadgets, use the opportunity to snuggle up and read a book, or sip on a green tea. Adopting regular night-time routines relaxes you and gives your body the cue that it is time for sleep. Moreover, it offers a chance for your brain to switch off without the constant buzzing of technology.
6. Sleep on comfortable bedding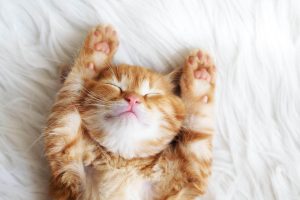 We know that a good night's sleep is paramount for your health. Therefore, you need a good bed to lie in. Our cottages are custom designed to help all our guests enjoy a dreamy night's sleep. We researched the best possible mattresses for both durability and luxury. Mattress toppers provide added sumptuousness. Snuggle up in our uber-luxurious and comfortable duvets. Whether you're ending a day of relaxing in the sun or a tiring day of walking, our beds will promise a cosy respite. So, use your holiday as the chance to reset your sleep schedule and get some much-needed rest!
Retreat to a community
We believe that local and friendly communities where our cottages sit are the perfect places to reconnect. Exmoor is a place full of chatty locals who will be delighted to share their knowledge with you when you enter the closest watering hole.
Wellbeing holidays in the UK can be pampering and rejuvenating. What's more, they don't involve all the travel that tends to undo even the most relaxing of getaways!
Find out all the other reasons why these really are the perfect getaway cottages for a wonderful getaway.
Thank you, Sam Napthine, for this post.