It's true that here at Exmoor Character Cottages, guests have always delighted in our traditional English garden settings and superb accommodation. However, never before have outdoor spaces like this been as important to our health and wellbeing. Space and fresh air should always be part of our daily lives. Yet, more recently, they've become vital as many of us adapt to a 'new normal' in the face of COVID-19.
We are passionate about blooms, bulbs, shrubs, trees, and everything we plant

At Exmoor Character Cottages, we have always taken our gardens seriously. We are plant mad! Lucy and our gardener Karen are regularly collecting cuttings and buying plants wherever they go to fill a space in one of our four cottage grounds.
Green thumb guests and the great outdoors
There is no question that our guests are as enthusiastic as us. It gives us so much pleasure knowing how much they enjoy relaxing in the surroundings. We have designed the interiors of our four luxurious holiday cottages to be a home-from-home. However, our delightful outdoors have won plenty of rave reviews from guests who appreciated everything we have growing.
"Wonderful, welcoming cosy cottage and the beautiful garden and relaxing hot tub were the icing on the cake." The Paine family, August 2019.
Plant species on show at Exmoor Character Cottages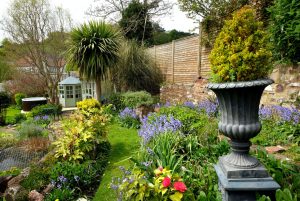 So, what can you expect? Well firstly, look out for some of our most interesting plants. For example:
A fabulous strawberry tree in Pilgrim Corner – these are native to the area and are now so rare that they are a protected species
Don't miss the fabulous bottle brush tree and rose arch. 'The Pilgrim' rose and the winter-flowering camellia enjoy wonderful reviews on Instagram when they are in flower.
A beautiful collection of tulips in The Old Sweet Shop as well as brightly coloured summertime cannas
The fig and apple trees we brought back to life during the renovation
Lucy's favourite salvia 'Hot Lips', a greatly-admired purple clematis that adorns the obelisk (and, incidentally, was a supermarket bargain!)
A stunning, abundant hot pink climbing rose in The Oval's patio, as well as a collection of Dunster plum trees
Wildlife in our gardens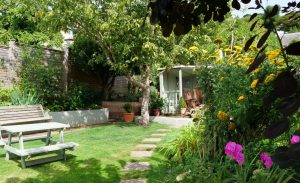 We are mindful of the wildlife outside. You will find the trees are full of the sounds of birds, and you might hear the occasional croak of our frogs and toads. Perhaps you may even spot a sunbathing slow worm. We use organic landscaping approaches as far as possible to make sure all these creatures and more remain safe and happy to share these outdoor spaces with us.
Scrambling roses and hot tubs
Our three-character cottages, The Old Sweet Shop, Pilgrim Corner and Stone Barn (all on Vicarage Road, Minehead) are some of the prettiest traditional English garden settings, if we may say! They all boast mature and eye-popping displays, unusual plants, old roses, shrubs and colourful spring bulbs. Moreover, they provide the welcome bonus of luxurious hot tubs for a relaxing dip anytime you fancy. The enclosed spaces have plenty of room for the kids to explore, whilst the grown-ups chill out with a cheeky glass or two and enjoy the beautiful, natural surroundings!
Seclusion and stunning views
The Oval, our 14th century cottage (on West Street in the medieval village of Dunster), offers a secluded courtyard. This is simply perfect for lazy mornings with the paper, leisurely breakfasts or lunch al fresco. And for the evening, head up to the pretty sun deck and enjoy outstanding views over Exmoor. Why not watch the sun go down with a pre/post dinner glass of wine or coffee?
Seriously lazy and delicious al fresco food to order
With so much to love outside as well as in, you may have decided not to gravitate all that far from your holiday cottage. That is more than understandable! As such, take advantage of our food delivery services and savour home cooked food and mouth-watering cakes from our local suppliers. All al fresco when the weather permits, of course!
Try, for instance:
● Delicious afternoon tea from Cross Lane House in nearby Allerford.
● A platter of scrumptious meats, cheeses, crusty breads, and tangy pickles from Stuart Lowen's Farm shop
● The deli counter range at the Dunster Deli – we love their selection of savoury treats.
If you love exploring a traditional English garden or two, then you will be happy to hear there are more to enjoy in West Somerset. Lucy recommends a trip to Dunster Castle. You can read about this in The Little Book of Walks.
Our beautiful cottage surrounds are just one of the many reasons guests love coming to stay. Read more about what makes holidays at Exmoor Character Cottages so special.