When it comes to sleep hygiene tips, we like to think we know what we are talking about.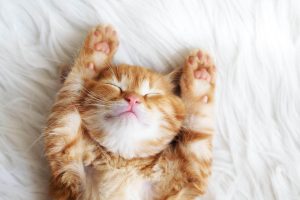 We have worked for years to ensure our guests delight in every possible element of their stay at Exmoor Character Cottages. Each part of the pie is important in making a holiday memorable, relaxing and enjoyable. However, we do pay great attention to creating a retreat that encourages optimum zzzzs.
Before we share with you our five top sleep hygiene tips, let's look firstly at why quality shut-eye is important, why it is often elusive for so many of us, and how poor rest can manifest itself.
Why do we sleep?

Our body and our brains need six to nine hours of shut-eye per night to restore a whole range of physical and mental functions. This rest offers your body a chance to restore many of these.
 Why is sleep important?

Where do we even begin to answer this question? Delicious slumber brings us so many benefits, as Professor of Neuroscience and Author Matthew Walker shares in his wonderful read, "Why We Sleep":
Life longevity
Enhanced memory
Higher creativity
Lowers food cravings
Helps protect from cancer and dementia
Reduces risk to colds and flu
Makes you feel less depressed, less anxious
Encourages happiness
As Professor Walker notes, even Shakespeare prophesied what centuries later scientists would learn to be fact when he penned in Macbeth that it was "the chief nourisher in life's feast."
So given its importance to our well-being, why don't we do more of it, and why don't we do it better?
Why don't we sleep well?
Estimates suggest around 30% of the British population suffer from sleeping difficulty. The reasons can vary, and include:
Anxiety
Jetlag
A health condition
Medication
Amount of coffee or alcohol consumed
Depression
What are the different types of sleep difficulty?

Again, it varies. For example:
Acute insomnia
A relatively isolated period of difficulty getting a proper night's rest. Usually associated with some kind of anxiety such as a looming work deadline, or a school exam.
Chronic insomnia
The term given for ongoing, prolonged difficulty in sleeping.
Comorbid insomnia
This is when the insomnia pairs with another existing condition, such as a psychiatric illness or a physical ailment.
Onset insomnia
When you have difficulty falling to quality shut-eye in the first place.
Maintenance insomnia
The term given to when you wake up during the night and you're unable to fall back to sleep.
What is sleep hygiene?

This term refers to the collective of practices, rituals, and features we adopt to give ourselves the best chance for a quality slumber.
Our top tips for sleep hygiene 
1. Reduce stress
The good news is, if you're coming to Exmoor Character Cottages, then this is pretty much guaranteed. The abundance of fresh country air; the beautiful surroundings; that slower-paced lifestyle that is so synonymous with village life; the fact you're physically away from your normal environment. It all works towards lulling you into that more peaceful state, so that the bridge from consciousness to a quality nap is a very short one to cross indeed!
2. Get some physical activity during the day
All of our Exmoor Character Cottages are located in beautiful West Somerset, and as a result they are close to the beach, the Exmoor National Park and a myriad walks. In fact, we've even collated a book of all the meanderings you might do whilst staying with us!  Moreover, these nearby areas of natural beauty, or indeed our very own stunning English gardens, can also provide a lovely backdrop for yoga or meditation. The more physical activity you enjoy during the day, the more likely you are to realise deep rest at night, which is the most restorative stage.
3. Enjoy a good book
Oh, any chance to extol the virtues of a good read! We keep plenty of books in our cottages and they cover a range of interests. Infact, often our guests will leave their much-loved reads behind for others to enjoy. Reading has the ability to relax (unless, of course, it's a thriller! But even in that case, it has your mind focused and not dwelling on anxious distractions). As a result, moving your mind into this calm space predisposes you to a swift and sound night of zzzzs.
4. Avoid eating or drinking too much before you go to bed
We try to keep our pantry well-stocked with tea, including some lovely decaffeinated blends that are sure to get you to wind down, warm you up and have you ready for bed!
5. Invest in a good mattress
The average person spends about 26 years of their life in bed! We spent much time researching the best possible mattresses for both durability and luxury. The majority of our mattresses come from Hypnos Beds and we also chose to add luxury mattress toppers for added sumptuousness. Incidentally we also use the highest quality bed linen from the well-respected brand Soak & Sleep.
Our guests always write about how well they sleep
It delights us to no end knowing that our guests have hit their heads on the pillow and drifted away into a deep, quality doze. Here is just some of the feedback we have received:
"I have never slept so well."
"The rooms and beds are really comfortable"
"The decor was beautiful, and the beds were divine!"
"The towels were fluffy, and the beds very comfortable"
We hope these sleep hygiene tips prove valuable to you. Feel free to find out more about what makes a stay with Exmoor Character Cottages so special.
The information herewith is not intended to act as medical advice. If you suffer from any health or wellbeing difficulties, please consult your doctor or a specialist.