It's time you took a short break in the UK, rather than the hassle of trying to sort out a trip abroad.
If you're feeling tired, overworked or stressed, we prescribe a three- or four-night cottage break in one of our cosy character properties. These are perfect, quick getaways to recharge your batteries without using up a huge chunk of your annual leave. There's less work and study to catch up on, too! And because it's in the UK, there's no tedious travel admin at airports and borders. Or jetlag.
Research confirms easy getaways are good for your health!
Research suggests that taking several short breaks a year is a perfect rejuvenator. In fact, it's a great way to manage today's hectic lifestyles. Where can you go for an ideal short break in the UK? Exmoor of course! Read on to find out why we recommend you book a mini retreat with us.
A short break in the UK gives you time to think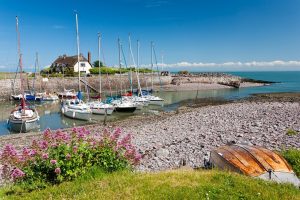 UK short breaks give you time away when you most need it. Escape from your daily routine. Physical distance provides perspective on problems. Embrace moments to slow down and to look at life more objectively. With new experiences and much needed down time, you'll rediscover your creativity and find answers to your challenges.
Spend more time in nature
If lockdowns have taught us one thing, it is that being with nature makes us feel good. So many studies show that mini breaks have a positive impact on more than stress. Chances of Type II diabetes, cardiovascular disease and high blood pressure are also reduced. So, taking a micro-staycation in a picturesque spot like Exmoor is nature's health tonic.
Enjoy the planning process
Two of the best things about a holiday are the planning and the anticipation. Literally, the process of planning a holiday gives us a mental boost. Setting a deadline to finish a work or home task before your break offers a sense of achievement. Plus, you'll have weeks to look forward to your time away in Exmoor and organise activities. So, taking frequent short breaks in the UK means more happy times looking forward to your time off.
Organise some fun activities during your short break in the UK!
UK mini-breaks also tend to be more activity-based, so they're often more rewarding. Recharge and refresh with weekend of walking, sightseeing and quality time with friends and family. At Exmoor Character Cottages we've teamed up with some third-party providers to give you some fabulous outdoor activities to try. Guests' favourites include 4×4 safaris, water-based activities with Exmoor Adventures, mountain biking, archery and clay shooting.
Learn a new skill – then eat or keep it!
Short breaks in the UK also provide precious time to learn a new skill. That's why we've created a range of half and full day workshops. We call then 'Makes, Bakes, Creates'. Our local experts will coach you – and then you eat or keep your creation!
There's Christmas crafts including wreath making. There is also cake decorating, photography and candle making. Our resident chef Ben offers bread, pasta, curing and smoking and sweets workshops. These are simply great for families – and for team building.
Lucy's top tips for an Exmoor short break
On your day of arrival, book a Chef's Table experience with our resident chef Ben. Enjoy superbly cooked local produce. This is the perfect way to relax from the moment you arrive. If you're staying in one of our cottages with hot tubs, take a dip while Ben cooks. Bliss!
Book a 4×4 safari with Andrew and seek out red deer and Exmoor ponies on the moors. He knows the best spots!
Get walking! Walk from Minehead to Dunster village. Mooch on Dunster Beach, admire the beach huts and pill boxes. Spend the day discovering the castle and village. There's so much to do here, and most businesses are dog friendly. Visit our Little Book of Walks for more adventures.
Take a road trip on the A39 to Lynton and Lynmouth. Think Thelma and Louise, UK-style (well – think of most of it, just not the finishing scene!). With views to die for, make the Valley of Rocks your destination. And be prepared to stop off along the way.
Squeeze in a cream tea – it's the Exmoor law! We recommend Periwinkle Cottage in Selworthy, Tessa's Tearoom in Dunster and The Apple Tree (LINK) tearooms in Minehead. Our Little Book of Walks mentioned previously also shares the best places to eat at our favourite spots.
We rest our case! We really do offer the perfect holiday homes for a short break in the UK. Enjoy three or four nights on a cottage break. Stay in a luxurious self-catering retreat. Rediscover, reconnect, recharge, rejuvenate. You'll see that taking a quick getaway is definitely good for you! And if you need more reasons to visit us, our guests have plenty to share! Visit our blog to find out what makes Exmoor Character Cottages so special.