We step back in time here to rediscover memories of old fashioned sweets and a wonderful, bustling business that was no doubt the fantasy of many a village child! Join us for a reminiscing, sugary trip down memory lane!
England, 1963
It's 1963. Conservative Harold Macmillan is Prime Minister, and The Beatles are topping the charts with 'From Me to You'. A young Brian Voke is living in Minehead.  He occasionally stops at 22 Vicarage Road in Minehead (now called 'The Old Sweet Shop'). It is ably run by Mrs Close, selling old fashioned sweets and groceries. If the shop was open for customers, the front door would be ajar, with the door in the vestibule closed. A sprung bell alerted Mrs Close to a shopper, and as a result she'd come out of the cottage to serve from behind the slate-topped counter.
Old fashioned sweets list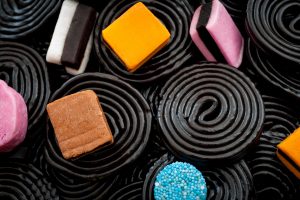 Brian remembers the treats on the counter, the highlight of which was a tray of Barratt's Liquorice Novelties. Similarly, he recalls the minutes spent in agonising decision-making over the choice of a pipe, Catherine Wheel, or wand.
Lollies were the same price across all retailers due to Retail Price Maintenance (RPM). Brian has an almost picture-perfect memory of the selection on sale in the shop:
Turkish Delight
Crunchie
Rowntree's Chocolate and Peppermint Crème
Fruit Gums
Fruit Pastilles
Aero and Mars Bars
Cadbury Dairy Milk Chocolate
Cadbury Dairy Milk came in different weights for 1d, 2d, 3d and 6d depending on size. A particular favourite was Fry's Five Boys Chocolate. Brian can cite the famous tagline as well – 'Desperation, Pacification, Expectation, Acclamation and Realisation it's Fry's'.
In addition, for a special occasion there were boxed chocolates – Milk Tray, Dairy Box, Black Magic, Quality Street, Weekend, Good News, All Gold and Carousel. Some you'll recognise, others have long since disappeared from our shelves.
A general store
However, there were more than yummy childhood delights on sale here. For instance:
Staple household ingredients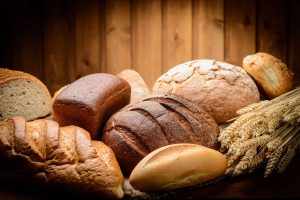 Locals relied on the shop for their daily provisions, and it was usual to shop every day for items like bread, dairy and vegetables. Remember, the refrigerator wasn't a feature in all homes in the early '60s like it is today. As a result, people bought perishables daily.
For instance, bread came from nearby Bagley's Bakery, based in the factory on Bampton Street (now converted into flats). In terms of prices, Brian recalls that a large white sandwich loaf was 7d, a small Hovis was 5d.
Baking ingredients included sugar and flour of course. Tins of pineapple, peaches, pears and apricot sat high, alongside Bird's Custard, Carnation Evaporated Milk or fresh cream for dessert.
Tea time is treat time 
If it was afternoon tea you were after, there were tea leaves sold by the quarter pound – shoppers took their pick from Lyons, Brooke Bond, Typhoo or Hornimans. For coffee lovers, Nescafé, Douwe Egbert's and Camp Coffee liquid were on offer. In addition, local brand Miles was available too (and allegedly the floor was the mixing area for some of the first tea blends in the shop). Huntley & Palmers, Peek Freans, McVitie's and Burton's provided a selection of biscuits – to dunk or not to dunk.
Not just sweets – traditional veggies, too
One daily customer was Brian's friend, gardener Stanley Mason who lived at the Malthouse on Vicarage Road. Stanley loved his back garden, and he was a professional horticulturist, tending large plots including St Michael's Church, Channel House and the large houses on The Parks. There was a paper sack of potatoes ready for weighing, as well as the seasonal choice of onions, carrots, swedes, cabbages and greens.
Dairy & accompaniments
Mrs Close stored the dairy produce on the cool slate section of the counter included eggs, butter, margarine, lard and Atora suet. And if these sound like the ingredients for a roast dinner (minus the meat), Oxo, Bisto and Coleman's mustard were on the shelves, too, as accompaniments.
Tobacco
The Government tended not to strictly enforce regulations around the sale of tobacco in 1963 compared to today. As a result, Brian confesses to buying the occasional cigarettes for his parents – brands he remembers include Players, Navy Cut, Weights, Woodbine and Senior Service.
One of Mrs Close's challenges was storage. She could only keep two or three tins of each item in the shop, therefore she placed the rest in the barns on the driveway of The Old Sweet Shop.
'The Old Sweet Shop' – now lovingly restored
Today, we have restored The Old Sweet Shop into a luxury self-catering holiday cottage, it even has a hot tub.
We have named our bedrooms after traditional old fashioned sweets, and we have a wall covered with historical confectionery advertisements. There's also a seasonal window display in the original shop window, which rotates from Allsorts to old sweetie tins, to Love Hearts. Occasionally a neighbour will wander past and share their memories of gobstoppers and strawberry sherbets, liquorice shoelaces and pear drops. The Lemon drop bedroom features on its wall a  line from the song 'Somewhere over the Rainbow'.  We think above all it sums up the sense of nostalgia that treats can prompt:
"Where troubles melt like lemon drops, away above the chimney tops, that's where you'll find me."
Now, a delightful wander down olde worlde lane is not the only reason to visit our cottages! There are actually so many things that make your stay at Exmoor Character Cottages such a memorable time – enjoy discovering why.