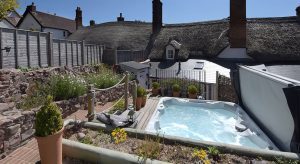 Are hot tub getaways your idea of the ultimate way to unwind, relax and recharge? Well, then, then we have the ultimate relaxing break for you!
What makes a hot tub such a relaxing way to holiday?
Hot tub getaways are hugely popular in the UK, and no wonder. Take a good book out into the garden and sink right in, or enjoy a tipple and dip in the twilight underneath the stars. Whether night or day, sunshine or rain, everyone loves getaways with hot tubs! Why hear it from us? Read about our regular guests, the 'Spa Ladies' and how much they love their hot tub getaways with us.
Romantic hot tub weekend breaks
Our cottages aren't just great for groups and families – they can make for a romantic short break, as well! What better way to enjoy special time with your loved one than soaking outside in the hot tub, perhaps with a glass or two of bubbly…?
Group accommodation with hot tub
If you're searching for group accommodation with hot tub options, then three of our four cottages are perfect for big numbers, with each sleeping a minimum of six guests. If your holidaying party is larger, you could potentially book out multiple cottages and all be close to one another.
Our hot tub cottages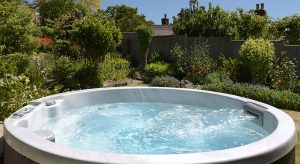 Here at Exmoor Character Cottages, our three Artesian Hot Tubs are each located in stunning surrounds. If you're after accommodation with a private hot tub, then look no further. You'll enjoy not just a relaxing soaking, but you'll be surrounded by the peace and tranquility of your own private cottage garden.
Pilgrim Corner
Pilgrim Corner's circular hot tub is located in our large English country garden, where bird song is likely to serenade you. This tub is perfect for six and has a changing room right next door.
Visit Pilgrim Corner's cottage page to find out more.
The Old Sweet Shop
Our hot tub at The Old Sweet Shop provides relaxing garden views or gaze up at the Exmoor sky above the thatched roof. This large square tub can seat six to eight.
Visit The Old Sweet Shop's cottage page to find out more.
Stone Barn
Stone Barn's large square tub comfortably sits six and provides views up to beautiful St Michael's Church.
Our tubs have up to 30 jets, and multicoloured lights for night-time use. We maintain them at a constant temperature of 38°C. As we are located in a residential area, we ask that guests do not play music when in the tubs. The hot tubs are operable from 07:00 – 22:00 each day.
Visit Stone Barn's cottage page to find out more.
How we clean our hot tubs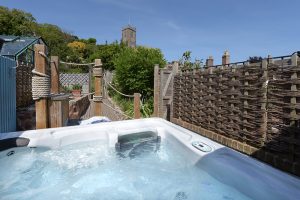 As with everything at Exmoor Character Cottages, we maintain a fastidious cleaning regime. In fact, you might be interested to find out how we've applied COVID-19 best practice cleaning protocols to everything we do. Here's a sample of what we undertake to maintain the highest levels of hygiene:
Follow a stringent hot tub cleaning protocol which includes daily, weekly and monthly action as well as regular, unannounced visits from our Risk Assessor.
Check our tubs daily when guests are staying with us.
Monitor chemicals and make any adjustments as necessary.
Empty them between lets, usually on the last night of your stay (for instance Thursday evening for a Friday departure). As a result, they are clean and hot ready for the next guests.
This is why our guests regularly comment on how sparkling clean our tubs are, something in which our hot tub team, led by Steve, takes great pride.
We provide excellent user instructions to all guests prior to their arrival as well as a personal introduction. Someone is always available nearby should you require any help at all during your stay.
Is accommodation with a hot tub high on your agenda?
If hot tub getaways are high on your holiday agenda, then be sure to contact us for more information or to make a booking. And if you're looking for other adventures and things to do on your getaway, then read more about what makes our cottages so special for guests.