There is no question that our four-legged friends are members of the family, and nobody understands this better than our dog friendly luxury holiday cottages. It's just one of the many reasons that makes staying with us so special. Located in Exmoor, West Somerset, our four Exmoor Character Cottages are perfect for families, group bookings and, of course, your pampered pooch.
English cottage charm meets contemporary conveniences
You and your fellow holiday makers will delight in any of our four rental homes. Spacious, impeccably clean and made for long, lazy, lounging around, this accommodation is the ultimate in coastal country boutique retreats. Self-catering is not only easy, it's enjoyable, and certainly pottering about in the kitchens is a pleasure.
The hot tubs are coveted features in three of our four properties. They promise a divine night-time soak whilst watching the stars, or some cheeky afternoon/early evening time out with your favourite tipple. However, as much as we could go on about everything our cottages have to offer, as every pet owner will confess; it's really not about you, is it?
Dog friendly features in the home
Dog friendly luxury holiday cottages should be sumptuous for everyone, not least of all the fur friends in the family. As such, how can we assure tails will be wagging from the moment paws set foot here?
● Indulgent doggy basket. You will find this in each cottage, complete with blankets and towels exclusively for your fur friend, naturally
● Although fur friends cannot go upstairs, they certainly have full rein on the ground floor
● The garden is not only a great place to rest weary paws, but it also is kitted out with a hose for cleaning muck off those who undertake adventurous outings (and more on that shortly)
● Fenced areas help keep furry rascals contained and safe
● An accident response team is always close at hand and able to respond quickly to any hiccups caused by fur friends – the team has all the right gear to tackle almost any canine-caused situation!
What do our guests think?
One of our guests, Lynne Scott, shares advice in this article about how to prepare for a holiday with your four-legged friend, and why Exmoor Holiday Cottages are so pooch friendly.
Our regular visitors Duncan and Elaine Peberdy holiday with their two spaniels, Charlie and Lola. Discover their favourite walks and places to eat and drink when they stay with us.
Adventures with your dog around Exmoor
Here are some terrific things to do with your fur friend in the local area.
Dunster castle
Although pets cannot join you in the castle, you can explore the grounds and gardens together. Moreover, walking through the gardens is fun for all the family.
West Somerset Railway
Steam through the Somerset countryside and let puppy gaze out at those rolling hills (and sheep!). Pets get their own ticket, of course.
Dog friendly beaches
The local dog friendly beaches really will spoil you for choice. They include, for instance:
● Dunster Beach (please note an area of the beach is not permissible to canines)
● Lynmouth Beach
● Porlock Beach/Bossington Bay (strong current so keep out of the water here) and Porlock Weir Beach
● Minehead – Oct to April. From May to Sept on the pavement east of the golf course
● Kilve Beach
● Bossington Beach (stay out the water, the current is extremely strong)
Walking your dog on Exmoor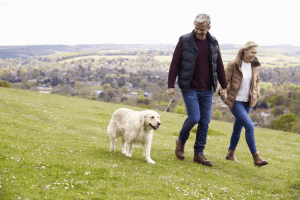 Check out our walking book 'The Little Book of Walks' for great walks on Exmoor, many of which are perfect for pooches. Read the information first to ensure a stress-free walk.
Safety information
Walking around Exmoor with your trusty hound is a lovely way to soak up the scenery with some company. However, make sure to stay aware and follow the instructions for walking with pets in Exmoor National Park. For instance, when walking across Exmoor be aware of private land and when to keep your pup on a lead.
Always make sure to keep your pup under close control. It is important to know that all canines must be on a lead of fewer than two metres during the bird nesting season (1st March to 31st July) and all times near livestock.
What to do when you cross other animals?
Sheep: Canines can be distressing for the sheep (especially pregnant ewes and lambs) and a landowner can legally shoot your pet if it is worrying livestock. As such, be sure to keep them on a lead.
Cattle: Cows will come towards you both. If this happens get to a place of safety and drop the lead – a dog will get clear of any danger on its own.
Ponies and horses: Can react in a variety of ways and will sometimes approach you. A good idea is to begin talking to the animal so as to offer some reassurance. If in doubt, drop the lead and get to a safe place.
After walking through Exmoor ensure you regularly worm your pet, treat them for fleas and ticks and of course, always make sure you clean up after them.
Local dog services around Exmoor:
We like to indulge in a haircut or a manicure whilst on a trip away. Similarly, our pooches also appreciate maintaining standards. As such, these wonderful local services are sure to oblige.
Dog groomers
Doggie Styler, 20 Quarry Cl, Minehead TA24 6EE
Dogs Make Over, Brook St, Minehead TA24 6BP, 07793 490867
Best Friends Pet Suppliers, Minehead, 5 Summerland Rd.01643 708070
Adventure walks
Minehead Dog Adventures 07540 847379
Dog fashion
The Pet Centre, 35 Alcombe Road, Minehead, 01643 703815
Vets
White Lodge Veterinary Clinic Stephenson Rd, Minehead TA24 5EB 01643 703649
Glenmore House Veterinary Surgery, Glenmore Road, Minehead 01643 703175
Dog friendly places to eat
Minehead
The Old Ship Aground pub, Quay Street, 01643 703516
The Quay Inn, 01643 702839
Apple Tree Tea Rooms, The Avenue 01643 706090
Echo Beach Café, 01643 709628
Dunster
Ye Olde Tea Shoppe, 07497 295358
Tessa's Tea Room, 01643 822394
Luttrell Arms, High St, Dunster 01643 821555
The Stags Head Inn, 10 West Street, 01643 821229
Porlock
The Royal Oak, High St, TA24 8PS
The Bottom Ship Inn, Porlock Weir, 01643 863288
Horner Tea Gardens, Porlock, 01643 862132
Blue Anchor
Driftwood Café 01643 821697
Lynmouth
The Rising Sun, Harbourside, Lynmouth, 01598 753223
The Pavilion Dining Room, Lynmouth, 01598 753484
Blue Ball Inn, Countisbury, near Lynmouth, 01598 741263
Further afield
The Royal Oak of Luxborough, 01984 641498
The Royal Oak, Winsford, 01643 851455
The Bell Inn, 3, Market Street, Watchet, 01984 631279
The Notley Arms, Monksilver, 01984 656095
Carew Arms, Crowcombe, 01984 618631
Woods Bar & Dining Room, Banks Square, Dulverton, 01398 324007
White Horse, Exford, 01643 831229
We hope you're reassured that not only do we offer dog friendly luxury holiday cottages, but the entirety of Exmoor really is a wonderfully welcoming place for your pooch!