The Festive Season at Exmoor Character Cottages
An interview with owner Lucy Green, published in Somerset Living in December 2019
What is it like running cottages during Christmas?
It is a lovely time to be welcoming guests to our cottages. People are so excited. I love finding out about their plans and hearing their different traditions. A growing trend is for groups of colleagues and friends to get together in advance of Christmas week to celebrate together. I think our friends become our family and our cottages are sociable and comfortable, perfect for festive dinners, playing board games or just lounging around in front of a roaring fire.
Do you have any events going on during the festive season?
As we have cottages in or very near to Dunster, guests come for Dunster by Candlelight at the start of the month. It's our cue to hang the wreaths on the doors, put the trees up, place decorations in some of the windows and put the table decorations out. The village looks magical and it really signals the start of the festive season at The Oval in Dunster.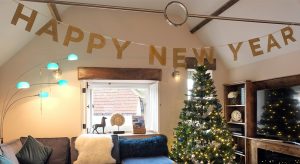 Tell me about decorating the cottages. When do you start? Do you have any favourite decorations?
Decorating starts at the end of November. I put Christmas music on a CD player which follows me around the four properties as the trees go up, and the tinsel and baubles are arranged. Each cottage has a different feel to it, so for instance The Old Sweet Shop has some knitted sweets and candy canes as ornaments. Pilgrim Corner has a room called 'peacock' and our tree is topped with a beautiful blue peacock, and the tree is decorated in the blue and silver to match. And Stone Barn can hold an 8ft tree – I couldn't resist!
Do you have any exciting plans for Christmas?
For Christmas and New Year, we always stay in Minehead to be near our cottage guests – just in case they need us. However, this January I am off to Australia for a month with a best friend.
What is your favourite Christmas song?
There are so many, but the one I love to sing and dance to is Slade's Merry Christmas Everyone.
If money was no object, what would you like under the Christmas tree this year?
A trip on the Orient Express, from Venice to London. Utterly indulgent and wonderfully romantic.