Whether you're after somewhere wonderful for the 25th, or you want to escape early with friends or colleagues for a separate celebration, we have the most indulgent and perfect Christmas holiday cottages available:
If truly luxury holiday cottages for Christmas is on your festive to-do list, then you've come to just the right place!
Christmas holiday cottages with inglenooks, and knitted stockings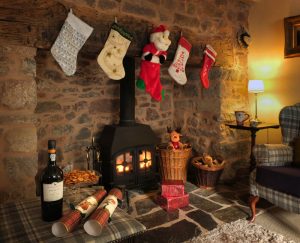 We just love this jolly season! We always have so much fun decking out all the cottages with twinkling fairy lights and glittering festive displays. Lucy especially enjoys decorating the trees and creating a festive wonderland in the front window at The Old Sweet Shop.
From the moment you spot the hanging wreaths (beautifully crafted by local florist Susie using dried flowers from our very gardens), you'll be well and truly immersed in this magical time of year. Get ready for the ultimate Christmas cottage break.
Christmas decorations – fabulous flare in each and every cottage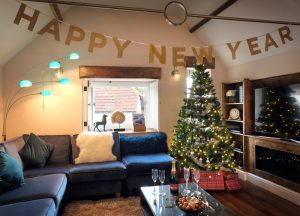 We embrace each home's individuality by decorating them with their own unique touches. For instance:
The Old Sweet Shop has knitted sweets and candy canes.
Pilgrim Corner has a room called 'peacock' and so naturally the tree is topped with a beautiful blue peacock and decorated in matching blue and silver.
Stone Barn is resplendent with a massive 8-foot tree.
The Oval Dunster – has a beautiful door wreath created by Susie
Excited guests, family reunions and planning the perfect celebrations
Once the cottages are trimmed up and the first guests arrive, the reaction on their faces makes all the preparations worthwhile. Many have become our friends and return every year to celebrate a slice of the festive season with their family. We love finding out about their plans and special traditions.
Early Christmas cottage breaks with friends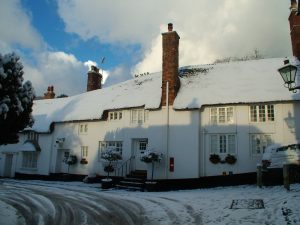 We've noticed a growing trend for groups of colleagues or friends to get together for early Christmas cottage breaks. They indulge in a silly season circuit-breaker, escaping to celebrate together before heading home to get the turkey ready.  This of course is 'snow problem' for our team – the festive season lasts for the entire month of December in our cottages, so it will feel like sleigh bells and jolliness whatever week you come!
Xmas self-catering breaks
Something that makes this time of year extra special is the chance to plan the most fabulous feasts. Many of us love nothing more than meandering around the kitchen and creating memorable dishes to share with friends and family. Xmas self-catering breaks are particularly popular, and we make them easy as pie (or should that be plum pudding?). All our homes are appointed with terrifically-equipped kitchens that can handle your every Christmas meal need!
Christmas holiday cottages that are dog-friendly
Every family should be together for Christmas, and that includes the pooches! We love fur friends coming to stay at our cottages, just be sure to let us know in advance. All fur friends receive welcome treats. Who knows – maybe during the festive season they get something extra special…?
What makes our Christmas holiday cottages so special?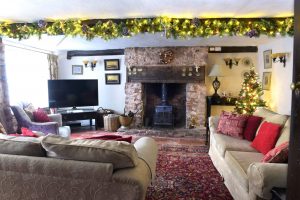 Our guests just love sharing their stories about their Christmas cottage breaks. So, if you need some festive inspiration and ideas just look at the testimonials on our website. So, if you're thinking about planning your 2021 Christmas holidays here with us, what treats can you expect?
An extra special and sweet welcome gift sure to kickstart all that fabulous feasting.
Waking up to relaxing breakfast after a restful night's sleep, to find that Santa has been!
Gathering in front of the fire to open the presents in the morning.
The glorious sound of the bells ringing out from St Michael's Church in Minehead and St George's Church in Dunster.
Getting cosy in front of a roaring fire with a cuppa and hot mince pies in The Oval, Pilgrim Corner and The Old Sweet Shop.
Playing board games and charades after dinner with the family.
Cooking the traditional Christmas dinner with all the trimmings is a joy in our well-equipped kitchens. As we mentioned, they're just perfect for Xmas self-catering breaks!
Walking off the calories with a Boxing Day ramble in Exmoor National Park.
Visiting the festive markets for traditional food and drink.
Brisk walks and festive wanderings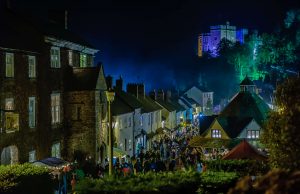 Each cottage is so comforting that it will be hard to tear yourself away, even for a short stroll. However, should you succeed then you won't be disappointed. Mother Nature really puts on quite a show this time of year in West Somerset!
Don't miss the chance to visit Exmoor National Park, which is especially beautiful in the winter months.
Wrap up against the icy wind and hike along the South West Coast Path.
To explore the local area and some of our favourite routes, The Little Book of Walks will show you the way.
Wander around the hustle and bustle of the festive markets along the tree-lined avenues in Minehead.
If you plan to stay at The Oval, don't miss the magic of Dunster by Candlelight at the beginning of December.
You're welcome for Christmas cottage breaks and any other month of the year
There is no question that December is a particularly special month. However, our luxury holiday cottages are sure to delight during Christmas and all year round. Indeed, so many guests share why they believe Exmoor Character Cottages are such a special place.
How to book our holiday cottages over Christmas
Remember that all bookings made directly through us come with a 100% booking guarantee, so if you cannot travel you won't be out of pocket. As such, check availability for our holiday cottages over Christmas or contact us.