Close your eyes and imagine the very best family holidays at Christmas. What has made them so special? Here's how and why they're so exquisitely memorable in Exmoor…
December 25th and a perfect morning start
You wake up in a warm cosy bed in a chocolate box cottage – perfect. Next you open the windows to a blue sky and a crisp morning – lovely. You and your party gather round a newly-lit fire in your PJs and slippers and open presents while listening to the distant sound of church bells – magic.
Well you don't need to close your eyes anymore to experience your very own winter wonderland. At Exmoor Character Cottages an idyllic yuletide holiday awaits.
Decorating our cottages with festive spirit
Every December we lovingly decorate our four cottages with faux pine trees and hanging ornaments that we have collected and curated. When you arrive, you will find plenty of room for your presents, and places to leave your stockings. Moreover, all but one cottage has a large chimney for Santa's entry and exit!
Our kitchens are perfect for making a traditional Christmas meal
December 25th would not be the same without mouth-watering home-cooked food. Our cottages have large kitchen areas. As a result you can prepare scrumptious festive feasts, with plenty of dining space, oodles of crockery, cutlery, pots and pans and even table decorations. You just need to bring the food! Or ask us about our recommended food and drink suppliers and have fun shopping for traditional Exmoor fayre.
Exmoor yuletide celebrations
Exmoor becomes so feverish with yuletide spirit that you might believe Santa Claus has relocated to Somerset from Lapland. It's certainly a friendly place to be this time of year. Take the opportunity to pop into a local pub for a quick pre-lunch drink. If you can tear yourself away from the roaring log fire, burn off the Christmas pudding with a brisk walk around town, along the beach or on the moor. The medieval village of Dunster is the place to enjoy a stroll taking in the festive window displays and deciding which is your favourite!
Good old fashioned entertainment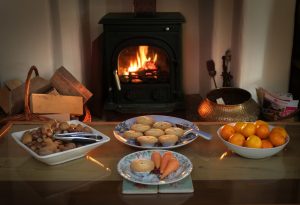 We know how much holidaymakers value family time, so all our cottages come with an eclectic range of board games and jigsaws. Family holidays are the chance to spend valuable time together. What better way to strengthen bonds than getting everyone around a table and diving into a game of Snakes and Ladders or Trivial Pursuit over the festive holidays?
When the day comes to a close
We know the best way to start the day, but what about how to end such a wonderful celebration? Perhaps:
In front of the latest blockbuster movie on TV or Netflix with a mince pie and glass of port?
Cosying up to the fire and playing yet another board game?
Gazing up at the Exmoor skies from one of our hot tubs (where you may even see Santa heading home on his sleigh)?
Whatever your choice, the best family holidays at Christmas really do happen at Exmoor Character Cottages.
Dogs, kids and muddy wellies are welcome at all our cottages, which can cater for families or large groups.
Find out the many other reasons that make staying with us so special.