Paddles, picnic, and a picturesque pub; Tarr Steps walk is a real delight.
Don't miss:
 A paddle in the river – perfect for dogs and kids if the weather is nice
Ancient currency and the Money Tree
The picturesque Royal Oak pub in Winsford village
Who will enjoy this walk?
The Tarr Steps walk is perfect for birdwatchers and those looking for a little piece of serenity. This isn't a long outing, and the area is a well-known beauty spot so it can get busy. However, it's also a fascinating ancient bridge and a discovery that you won't want to miss.
Exmoor National Park – getting there and away
Departing from Minehead or Dunster, we suggest you ignore the sat nav and approach from the Winsford Hillside, between Exford and Dulverton on the B3223. Follow the signs from the car park for the scenic stroll and get ready to cross the actual Tarr Steps.
Britain's best-preserved historic clapper bridge
The archaic stepping stones are the best example of Britain's most primitive type of bridge. For instance, it is held together by the sheer weight of its 40 gritstone capping stones. These edge either side with giant megalithic ends, each weighing two tonnes. This is certainly a meander packed with history!
Plenty of interest for bird lovers
For the birdwatchers amongst you, this natural oasis really is a Mecca for wildlife. Look out for dippers, grey wagtails and pied flycatchers. They're just some of the feathered residents who swoop in and out of the dappled sunshine, hidden from buzzards and other predators.
Keeping little people entertained is easy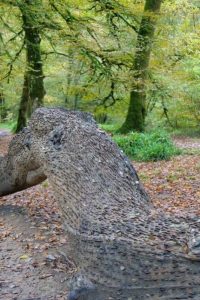 For those of you with small children, who could resist a little paddle along the way? Moreover, there's the legendary 'Money Tree' near Knaplock Wood. This fallen tree trunk is full of coins. Nobody really knows when or how this custom started but as you'll discover, some of the coins have been there for a very long time! Indeed, it's a perfect spot for a little make-believe and tall tales.
Eating alfresco
If you choose to take this ramble in the summer months you might want to take a picnic for the family. The surrounding area is a perfect spot for dining al fresco, as there's plenty of open grassland beside the River Barle. It is also a great adventure for your dog who can run freely along the bankside.
Stop in beautiful Winsford
On your drive back to Minehead, we suggest dropping into the picturesque village of Winsford. Potter around its charming cottages, village green and some of the eight bridges before finishing your afternoon at the charming Royal Oak. The 12th Century pub boasts picture-perfect architecture and the beautiful surroundings make it worth visiting, even if just for a pint.
There's more information, maps, and full directions in our Little Book of Walks, which is available in selected retailers in Exmoor. Similarly, find a copy in your Exmoor Character Cottage.