Be inspired by Porlock Weir's poetic past then head back via Bossington Beach for great views, fresh air and tea!
As part of our Little Book of Walks, here we explore the picturesque surrounds of Porlock Weir and Bossington Beach. These trails that are sure to delight any outdoor enthusiast. Indeed, they are some of our favourite routes and are sure to charm in many ways.
Don't miss:
● 17th-century fisherman's cottages and the weather-beaten boats at Porlock Weir
● Culbone Church, England's smallest – accessible only on foot
● Picture-perfect coastal panoramas on Bossington beach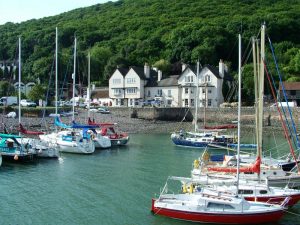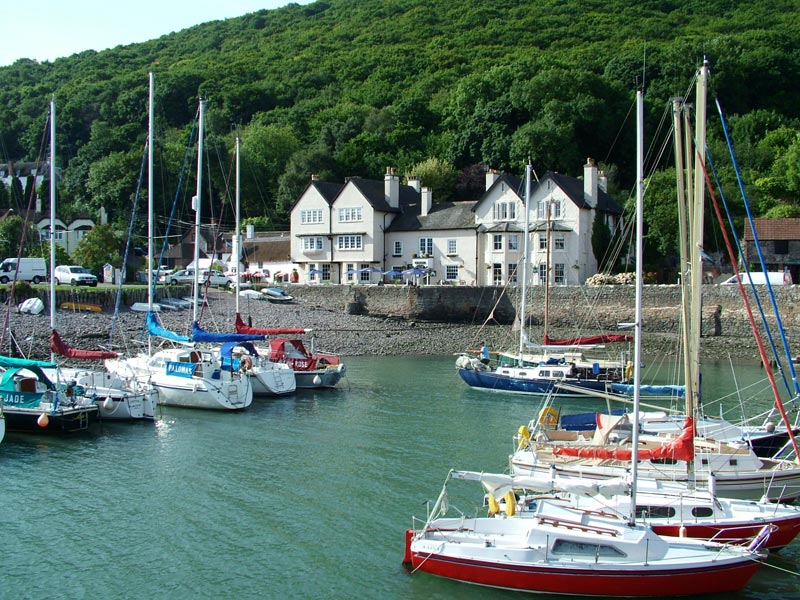 Half-day in Porlock
To make the most of your day, set off in the morning. Drive on the A39 from Minehead or Dunster to Porlock and through the village following the signs to Porlock Weir. The whitewashed cottages and floating fishing boats are like something out of a postcard. Indeed, you'll understand why the village was an inspiration for the romantic poets Coleridge, Wordsworth and Southey.
Eight-mile walk
Once here, you can choose to set off on the eight miles' walk along the South West Coast path, or just walk around the water itself. If you take the shorter route, we recommend you enjoy the view and an amble on the dog-friendly beach. In contrast, the longer stretch, as featured in our 'Little Book of Walks', will take you on a circular route with magnificent views of the coast out to Wales and Lundy Island on a clear day.
Culbone – England's smallest church
On the way, a short downhill detour takes you to England's smallest church, Culbone. The BBC filmed the wedding scene in their serial of the melodramatic novel 'Lorna Doone' here. However, we can't imagine how all the crew and equipment got down and back up again! This is a long, and sometimes challenging walk with steep sections. As a result it's not for everyone.
Post ramble – where to eat
After that if you're feeling peckish from your terrific ramble, we recommend lunch at the Porlock Weir hotel, where you can enjoy a wood-fired pizza on their deck. Alternatively, you can head back out to the village. Stroll through its pretty streets with shops, galleries and tea rooms to find a lunch spot.
To Bossington via Allerford
You're only a short drive away to the equally picturesque village of Bossington, a National Trust village. An unmissable point of interest on the way is Allerford village with its much-photographed packhorse bridge. In other words, this is the ideal place to pause for a Facebook or Instagram snap.
With its thatched cottages painted in matching lime watched green, Bossington also feels like a postcard that has come to life. Luckily for walkers, the village is not on the main tourist route. As a result it is often deserted, particularly out of season.
Two-mile walk
After parking in the NT pay and display car park at Bossington, you follow the coastal path to the village. There you can take in the picture-perfect coastal panoramas that the beach has to offer. The two-mile walk should take just under an hour – longer if you want to stop, breathe in the fresh air and take in those beautiful views.
Hurlstone Point
When you get to the beach, you'll see Hurlstone Point on the cliff in front of you looking over the Bristol Channel. This is the site of the old coastguard station built in 1902. Please be careful on the beach. As lovely though the sea is, the water has very strong undercurrents and is not for swimming in. Above all we recommend you keep your dog on a leash here.
Keep an eye open for rare butterflies
If you're really lucky, you may also spot an extremely rare insect, the high brown fritillary butterfly. The caterpillar feeds on violets before transforming into a nectar-collecting butterfly, landing on wildflowers such as foxgloves. This area is carefully managed by the National Trust to ensure the survival of this and other beautiful butterflies. You will follow the beach track around the seafront back to the car park.
Post ramble – where to eat
If all that sea air has made you peckish, Kitnors Tearoom in Bossington has an excellent reputation and is loved by locals and visitors alike.
There's more information, maps and full directions in our Little Book of Walks, which is available in 'Not Two Deer' in Dunster village or the Minehead Tourist Information Centre, or find a copy in your Exmoor Character Cottage.
Words by Lucy Green, photography by Julia Amies-Green