Winter Wonderland Christmas Wreath Workshop
Make your own at our Christmas wreath workshop – and then show it off at home!
At Christmas time many of us get crafty. Indeed, one of the most satisfying and impactful items you can make is a beautiful wreath to adorn your front door. That's why we're delighted that renowned local florist, Susie Logan, will be running two exclusive wreath making workshops. For Exmoor Character Cottages guests only, this craft series takes place across November and December. It is sure to bring out the creative in you, not to mention your festive front door!
Join Susie to learn how to go from this…                                                                                                                … to this beautiful creation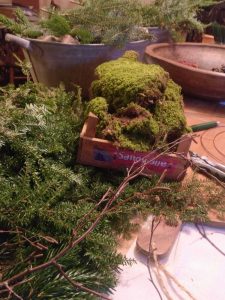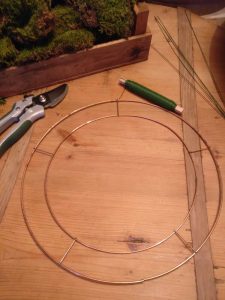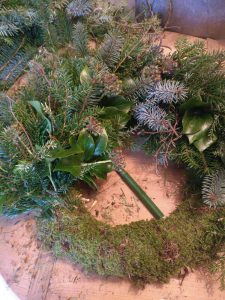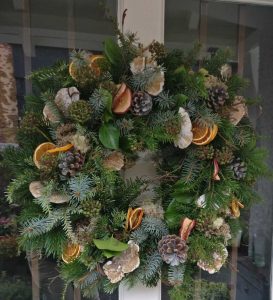 Superb quality, real Christmas wreaths
Taking cue from the beautiful Exmoor countryside, these wreaths are inspired by and use natural materials. In fact, Susie forages for much of the foliage in the ancient woodland and hedgerows on her secluded Exmoor farm. At approximately 60cm in diameter, these substantial works of art are vastly superior to the mass-produced versions available in shops over the festive period. As a result, they are all unique, and they will all be a reminder of your holiday, too!
A fun wreath making class
This Christmas wreath workshop is all about learning, creativity and fun! Susie will share trade secrets as well as hints and tips to ensure your decorative wreath makes a real impact. She will also give you tips to help ensure your design lasts throughout the festive season. Under her expert guidance, you choose how to design and make up your wreath. Indeed, this is all about bringing your own personality to the finished creation. Susie will guide you through the various stages of wreath creation. You will each receive an abundance of mixed foliage, fruits, cones, and other natural treasures to choose from – including dried fruit, seeds and berries.
A fun and social craft session
The three-hour session includes coffee and mince pie to start. Later, you can enjoy a celebratory glass of mulled wine at the end as you admire your creations. This is a great way to spend a morning or afternoon with your friends and family and learn a skill from a professional florist.
As a result, you'll be able to craft wreaths every year with the skills you learn. And wreaths are no longer just for the festive season. On the contrary, we're increasingly seeing them on doorways at Easter, in the Autumn and to celebrate special occasions, too. So, you'll have one of the best-dressed front doors in your street any time of year!
Quick Trivia: What does a wreath symbolise at Christmas?
The evergreen material and seamless circle infer eternal life. Christians will sometimes place a candle on their wreath to symbolise Jesus's light in the world. However, for so many they simply symbolise a truly special and heart-warming time of the year.
Christmas wreath workshop booking details
For a minimum of four, guests can book sessions from a Tuesday to Thursday from November 16th to December 16th. The price for the three-hour session, with materials, tutorial and refreshments is £65 each. When you consider a quality wreath alone can cost in excess of £100, this is a great price. The workshop will take place at your Exmoor Character Cottage. All you need to do is bring your favourite secateurs (if you have them) and get creative! Contact us now to find out more and to book. All our bookings are covered by our Protected Bookings Scheme. If this takes your fancy, you might want to read about what makes Exmoor Character Cottages so special for other guests, as well!