If you have ever thought of walking the South West Coast Path, then read on. Our three Exmoor Character Cottages in Minehead are a fantastic base for covering the section that runs across the northern edge of Exmoor. The Old Sweet Shop guests Stuart and Rosalie share their experience here.
How Long Does It Take to Walk The South West Coastal Path?
Minehead is the official starting point, but you'll need to walk another 630 miles before you reach the end in Poole Harbour on the south coast! If you ever cover the entire route of these southwest coastal path walks, you will have tramped along the coast in Somerset, Devon, Cornwall and Dorset.
South West Coast Path Day By Day Guide
To start walking the South West Coast Path, just head to Minehead's western end of the beach. The starting point is easy to find in the form of a huge metal sculpture of two hands holding open a big map. Make sure you take a selfie here. If there are other hikers setting off at the same time as you, ask them to take a picture for you.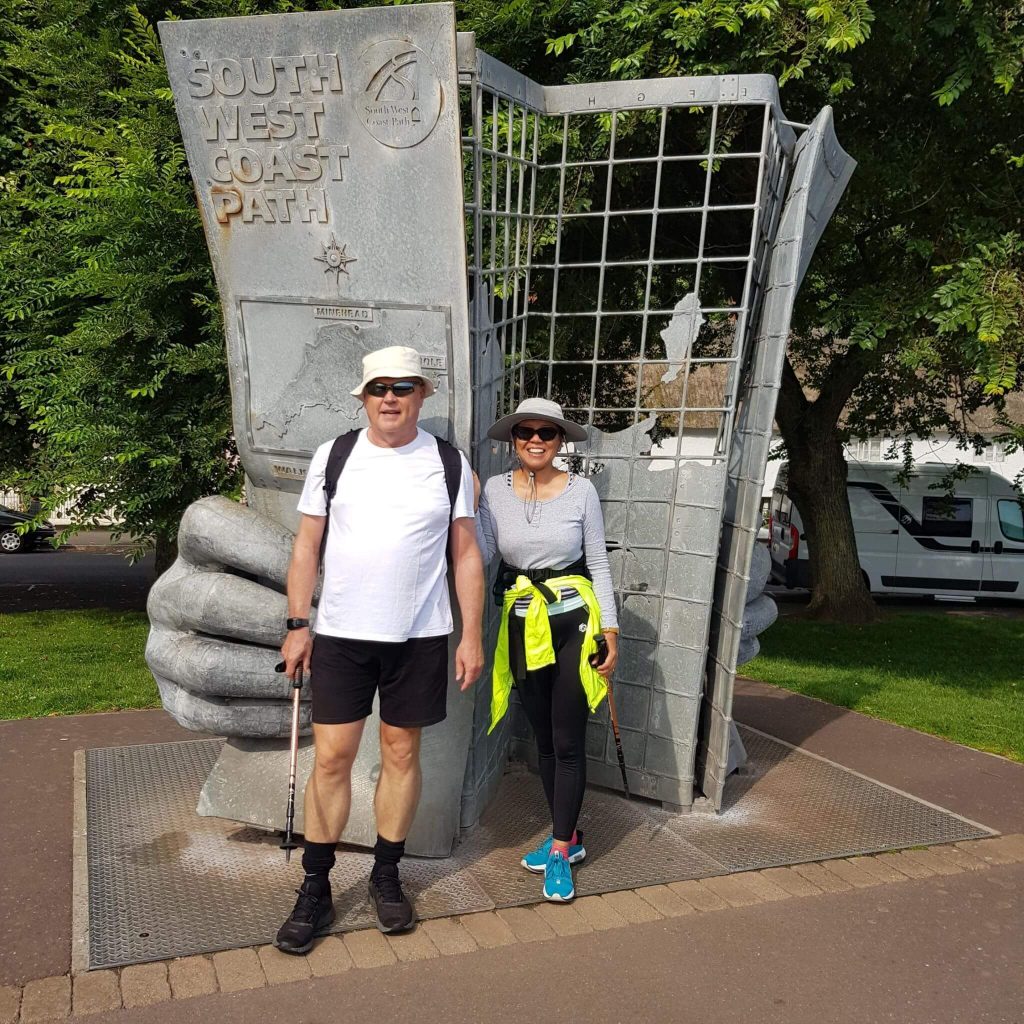 Minehead is an excellent base for tackling the first two most popular sections of the southwest coastal path walks. These sections take in Minehead to Porlock Weir, and then onwards from Porlock Weir to Lynmouth. Each section is over 10 miles, so you can divide this up into three smaller bites if that's too far.
SW Coastal Path Walk – Step 1
A taxi from Minehead to the  would reduce the first hike to around 8 miles. After that, just book a taxi to get you back to Minehead. Or use the minibus service from Porlock Weir.
SW Coastal Path Walk – Step 2
This takes you from Bossington towards Lynmouth. You can reduce this section by leaving the SSouth West Coast Path via a well-signposted footpath. The route takes you on a steep final climb up to County Gate on the A39 – the main road between Minehead and Lynmouth. County Gate is not a village; it's the midway point between Porlock Weir and Lynmouth. Taxi drivers know this location well as it is the official county boundary between Somerset and Devon. There's a car park here that makes it an easy pick-up or drop-off.
Southwest coast path taxis – an important note
Many of the taxi companies in this area are often just a one-person band. As such, make sure you speak with them the day before you set out. This way, you know they are available at the time you expect to finish your hike. Also, to get you back from Bossington, try to arrange a taxi based either in this village or in neighbouring Porlock Weir. A taxi coming out of Minehead will need to charge you more for the trip.
SW Coastal Path Walk – Step 3
To complete these southwest coast path walks, get yourself back from Minehead to County Gate. To do this, follow the same footpath again from the A39 about a mile down onto the South West Coast Path proper. Then continue west to Lynmouth. Every step from Minehead to Lynmouth is very clearly marked. However, it's worth taking an Ordnance Survey map with you so you can be absolutely sure where you are.
When walking the South West Coast Path, make sure you can walk up hills comfortably. For the section out of Minehead, the path can be pretty steep. However, once you are up onto the heights above the sea, it's a fairly level walk until you descend sharply into Bossington. From Bossington to Porlock Weir is flat along a path just behind the beach. That said, when you leave Porlock Weir and you are based at Lucy's Minehead cottages like The Old Sweet Shop, walk west and be ready for lots of climbs and descents as the day progresses.
The final section of walking the South West Coast Path takes you down into Lynmouth, a memorable route that leads along steep cliffs for more than two miles. Don't be put off – the path is relatively safe even though it looks a little perilous from a distance.
Contact Riverside Taxis in Lynmouth on 01598 753442 for a taxi from Lynmouth to Minehead.  You can travel back the Exmoor Coaster open-top bus operated by First Bus.
South West Coast Path Accommodation
We stayed at The Old Sweet Shop cottage in Minehead as part of our walking the South West Coast Path experience. We wanted to do bits of the South West Coast Path on a day-by-day basis. As a result, we could enjoy some creature comforts when we finished each hike. The Old Sweet Shop met our criteria in style. The cottage boasts a fantastic interior that's way beyond what any of the local hotels can offer. It was clean throughout, too – and the hot tub was perfect for relaxing after hiking. We cannot praise this amazing cottage enough – lots of thought has gone into this, and it is really good value.
If these southwest coast path walks have inspired you, then read about shorter walks and places to eat along the way in The Little Book of Walks.
Happy walking the South West Coast Path!