We always knew we played host to some of the best stargazing in England, but now we've received official recognition!
Exmoor Character Cottages have been awarded 'Dark Sky Friendly' status by Exmoor National Park, an internationally acclaimed Dark Sky Reserve, and the best place in England to see thousands of stars adorning the night sky. Lucy and the team want you to have the best possible view of this light show. As a result, we have put together a handy guide to stargazing. This includes:
the best times to visit

what to look for

finding

dark sky

discovery sites

hiring

telescope

s

details of the Exmoor Dark Skies Festival

,

offering astronomical events for all the family to enjoy.

Supernova!
Be sure to continue reading, as following the below handy guide we also have an entrancing first-hand account of one guest's dark skies experience. It is sure to fire you up to come and visit!
When you do, we ensure an optimal base in which you can enjoy the best stargazing in England. We've shielded lighting in the cottage gardens and plenty of torches to navigate the paths after dark. Pop a casserole in the oven or set the slow cooker for supper, cosy up in a warm blanket beneath the crisp night sky, and enjoy a stellar spectacle like no other. With 80% of the population typically seeing 20-30 asteroids and planets a night, a dark sky reserve reveals thousands in all their glory!
When to come for the ultimate Dark Skies experience
Even the best twinkling nights like these need planning. So, organise your visit during the autumn/winter months, typically end September to March. With the nights drawing in and more availability during the quieter months, it is the ideal time for all the family to make the most of this celestial experience at Exmoor Character Cottages. Hats and mittens at the ready!
The Exmoor Dark Skies Festival in October offers an abundance of sparkle-focused events in locations around Exmoor. If you have a budding spacewalker in your midst, then this is the time to get out after dark at this simply brilliant festival for all the family. This not only offers the best stargazing in England, but also the best atmosphere!
How to go stargazing – free guides and useful information for stargazing
Light up the skies with charts, get tips for beginners and find out where to look for the Milky Way, with the Stargazing Pocket Guide by Exmoor National Park, available in all our cottages. Or download this super handy dark skies pocket guide to your phone. We also recommend this 'Astronomers Guide to Exmoor' which includes the best spots to enjoy the night sky in the area. Optimise every opportunity with their useful dark sky calendar and guide to the best nights to partake in this wonderful hobby, all year round!
Listen to Jo Richardson of Space Detectives talking about star gazing on Exmoor, the Dark Skies festival and how to find your constellation (and some more random stuff too!)
Can you stargaze with a full moon?
Did you know that a full moon, however beautiful, is a light pollutant that will diminish the twinkling spectacle in the night sky!? No, neither did we until we came across this brilliant go stargazing chart, which will help you to plan the best times to visit us.
Equipment guides and hire
Low levels of light pollution on Exmoor's Dark Sky Reserve will enable you to see beautiful astronomical sights through the naked eye, which is a bonus when sitting in the hot tub with a glass or two! (Minehead cottages only). However, for an up-close look at the night sky, a telescope can be hired from the National Park Centre in Dunster. The cost is £25 for 24 hours and £10 per day thereafter. A refundable £100 deposit is required. We recommend you book this in advance at 01643 821835 or call the National Park Centre on Dunster Steep.
For more information, opening times and a tutorial on setting up the telescope visit Exmoor National Park.
The best stargazing in England gets help from some great stargazing apps 
There are several free apps suitable for iPhone users. Add to your nocturnal experience with some of the most popular, for instance:
Sky Gazer
Sky View
Star Tracker
Stellar Tour
 Consider a night hike for a true galactic experience 
If you prefer a night hike, with or without a group, here are a few Dark Sky Discovery sites for the best viewings which are accessible to everyone:
Dunkery and Horner Wood, north of Exford
Dunkery Beacon, north of Wheddon Cross
Webbers Post, south of Horner
Wimbleball Lake, Dulverton
Urban nature writer shares her best stargazing in England story
Urban nature writer Lucy Anna Scott is enchanted by some of the best stargazing in England. Indeed Europe's first International Dark Sky Reserve is a veritable celestial show in the skies above Exmoor. This article was published in the January 2020 issue of Planet Mindful. 
When Tim jokes that we might step outside for some stargazing, everybody laughs. Turning from my seat in the window, I search out into the night sky. Its inky opacity suggested the rain clouds we'd been under for hours still lingered in the air like sloths.
Raining on the parade of The Dark Skies Festival
I'm not surprised we can't see the planets and asteroids that have made the Exmoor landscape unique on a worldwide scale. Earlier that day I debated whether to make the four-hour drive in the lashing rain from London. The events to celebrate Exmoor's annual Dark Skies Festival and some of the best stargazing in England were now cancelled. On my phone was a message from Tim saying that it would be "a miracle" if the skies cleared later.
Tim didn't want the sky to disappoint me. But I was eager to travel regardless. I was a guest at a party in a coastal cottage in Somerset. Its owner, Lucy, asked her neighbour Tim Wetherell – an artist and astronomer – to give a talk on the outstanding nocturnal beauty of their sky. It is a beauty that most of us no longer experience. Whether a celestial spectacle awaited me or not, the promise of being somewhere that possessed that rare quality of darkness was reason enough. So, I slung my bags in the boot and set off.
Exmoor – home to one of the best places in England to stargaze 
Exmoor – a place of Bronze Age burial mounds and deserted medieval settlements – was Europe's first International Dark Skies Reserve. The accolade recognises a landscape's natural night-time environment and a distinguished quality of starry nights. Strict controls on light and human habitation are in place.
As a result, this means enthusiasts like Tim can hike to the ancient moor and find an ancient sky on the horizon. He can behold planetary clusters and clouds of nebulae, the constellations of Pleiades, swirling planetary storms. For instance, on a clear night, the naked eye can view Andromeda – a spiral galaxy 2.5 million light-years away. Indeed, taking his telescope onto the moors, Tim has been able to observe the phases of Venus, the ice caps on Mars and the myriad of stars in the Milky Way.
Ancient intragalactic storms make for some of the best stargazing in England 
Astronomy has fascinated the now-retired scientist since he was a teenager. In fact, he has even seen vast storms on the planet Jupiter.
"We can have severe storms here on earth but some of the storms on Jupiter have been raging for centuries," he tells us. "Seeing that makes you realise what nature can do and what it can be. You think how lucky we are to have the Earth with its relatively friendly climate and how important it is to protect that."
The best stargazing in England was even better years ago
This view of night is how we should all know it. It is how our ancestors saw it. Even the Victorians, Tim explains to us, only had the light of the moon to navigate the night. But in 2019 natural dark skies are exceptional experiences for human beings. Indeed, they are only possible if we make pilgrimages like mine. Alternatively, one can head to the French Pyrenees, where celestial trails are still visible over the Pic du Midi Observatory, or to Central Idaho, where the light of the Milky Way reflects in its vast lakes.
Those pilgrimages are getting longer for urban-dwellers like me. But chatting over drinks before Tim begins, I sense from some that they don't spend too many moments marvelling at their night sky. It's akin to how I march past the wild deer at my local South London park without a glance. However, all of us are about to have things put in perspective.
Tim shows us a map of the whole world at night, lit by modern electricity – an unrelenting rash of synthetic luminosity spreading across the body of entire continents. In the UK, Pembrokeshire, Exmoor, Dartmoor and the Brecon Beacons are small portholes of pure dark through which one might escape all that starkness.
Starry night – how our sky is changing
Next is a version of Van Gogh's Starry Night over the Rhone. Tim has manipulated it to be a reimagining of what the painter would see today. The cobalt blue and aquamarine sky and river, as depicted in 1888, and its golden-yellow planets, have become a wash of muddy browns. The room erupts with disappointed sighs.
"Seeing how things should be is half the battle in preserving it," he tells us. What is more, unlike other types of pollution, we can simply turn lights off and the problem disappears.
With that, we are all keen to step outside. The room empties as we filter out the back door, wine glasses in hand. A breeze has set some clouds drifting, and a couple of twinkling lights have appeared. I head to my bedroom to grab my coat. By the time I get back, a miracle has occurred.
A twinkling bright sky surprise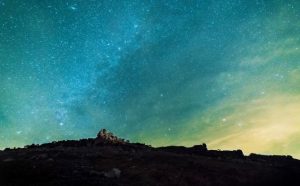 The crowd gathers, and all are looking up.
In the middle of the pack is Tim, shining his torch at the clusters appearing as fast as he can explain them.
"You see that 'W' shape up there? That's Cassiopeia the Queen", he tells us. Nearby is Perseus; its main constellation of 19 stars catalogued by the Greek astronomer Ptolemy in the 2nd century. Then there's Aldebaran, the brightest in the constellation of Taurus.
Enraptured, we exclaim 'oohh', 'aaahhh' and 'wow' like kids at a firework display. This really is some of the best stargazing in England.
We are all stardust
Lucy asks whether the inhabitants of her 300-year old house enjoyed the same celestial formations. They would, Tim confirms. They shift, but it takes thousands of years. We have, I think, much in common with those now-invisible people. But the words of cosmologist Lawrence M Krauss were as true then as they are now: 'Every atom in your body came from a star that exploded. And the atoms in your left hand probably came from a different star than the ones in your right…You are all stardust.'
I break from the best stargazing in England party to find a spot of silence.
The light, cool breeze is disorientating as I navigate the garden path in the deep black. The sky is a dome of faraway lights. I lost that instinctive awareness. I forgot the sky's depth: its contoured topography of light, which defines a time and history that remain beyond our comprehension. But gazing upwards, I am grounded again.
There are so many reasons our guests love staying with us. Many of them have been moved to write their own stories, so feel free to read more about why guests love returning to us time and time again.