The Victorian era of engineering was a time of great ingenuity, modernisation and prosperity. This period of rapid development brought social and economic change to the nation and firmly established Britain as a world-leading trading country. Here in Exmoor we can still witness and indeed enjoy preserved vestiges of the Victorian era of engineering.
Granted, the greater Exmoor region is famous for its farming and agriculture (the local microclimate is especially kind to cattle). However, despite its farming roots, the area was also home to some engineering marvels. These helped attract wealthy tourists to the area and allowed other industries to develop.
Today, some of the local engineering marvels have disappeared. However, those of us who celebrate our recent history can still find evidence of these mechanical gems (without too much hard work).
Steam engines of the Victorian era really are incredible!
Brunel 'reshaped' Britain's Railways long before Beeching.  The West Somerset Heritage Railway is the longest of its type in the UK, with almost 23 miles of standard gauge track. Following the exact path identified via Brunel in 1862, the line was part of a much greater railway master plan of the time. However,  sadly, British Rail closed it in 1971.
The railway itself was a marvellous example of the Victorian era of engineering. It provided glorious views throughout its length. However, it, unfortunately, carried very few passengers outside of the summer season. Despite plans to improve the line and with support from local tourism providers, it closed in 1971 (thus requiring a change at Taunton to a bus).
Fortunately, in the hot summer of 1976, workers cut back the lineside shrubbery, gave the station a lick of paint and refurbished the tracks. As a result, the heritage trains returned to West Somerset.
While these heritage trains give a welcome taste of yesteryear, the cost of running them has spiralled. Consequently, the line's future is somewhat in doubt. A network rail connection at Taunton also seems a distant dream. So for now, enjoy this wonderful engineering asset while you can.
Fascinating fact: The Beatles filmed their movie, A Hard Day's Night(1964) at London Marylebone station and on the Minehead branch (much of it in and around Crowcombe). Local school girls mobbed the Fab Four, desperate to get a sight of their heroes.
The Brendon Hills was a busy mining landscape in the 19th century. Impressively, between 1857 and 1864 a railway was built to transport iron ore from the mines to Watchet for shipment to South Wales. This incorporated a kilometre long incline and operated via a winding house on top of the hill.
The mines were active until 1883 and then intermittently until the early 20th century, with the railway finally dismantling in 1917.
The West Somerset Mineral Railway is a fascinating historical railway line in the Exmoor National Park and a wonderful example of engineering in the Victorian era. It lies in the Brendon Hills in West Somerset. Sadly, it no longer has rails or rolling stock. However, there are still traces of this magnificent attempt to win iron ore from Somerset and transport it to South Wales for smelting.
The terminus of the mineral line was Watchet. This was a thriving harbour town with a huge paper mill benefitting from wood pulp (harvested from trees in the Quantock Hills and from Exmoor itself). At its peak, the paper mill was producing 180,000 tonnes of cardboard, packaging and paper bags every year. It deployed the world's largest 'scissors' to cut and splice the paper in numerous shapes.
Today, the former harbour is now a marina, surrounded by historic and modern buildings. Moreover, it will soon become home to an artist collective. Unfortunately, as is the case for much of the Victorian era of engineering, the paper mill is no longer open. However, Watchet is a town of constant change with new, interesting independent businesses opening regularly. As a result, it is a really interesting place to while away a few hours.
The West Somerset Railway stops at the historic Watchet station. Here you can find a small charity book shop, café and beautifully restored ticket office with a crackling log fire on cold winter days!
Fascinating Fact: Watchet itself bears a rich history dating back to the Saxon period, where the town heralded a 'mint' – these minted Watchet coins appear as far afield as Scandinavia!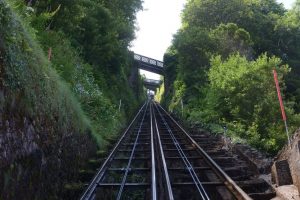 You don't fancy a steep, 20-minute walk up a zig-zag pathway? Can't find a local donkey to carry you up the steep cliffs between these twin towns? Not a problem, the Cliff Railway offers the ideal transport solution.
The famous Lynton and Lynmouth funicular Cliff Railway opened in 1890. It is the highest and the steepest totally water powered railway in the world. This historic funicular Cliff Railway is bronze winner of Devon's Large Attraction of the Year 2018. It connects the twin towns of Lynton and Lynmouth, providing stunning coastal views that will be the highlight of any visit.
This working heritage railway is Grade II listed. It is also the UK's only fully water-powered railway and one of just three examples left in the world. Perched on the clifftop, and at 500ft above the lower station, is our Grade II listed Cliff Top Cafe. This offers perhaps the best location for a cream tea in this part of the West Country. With amazing views and great food, it's just what you need before discovering what other secrets Lynton and Lynmouth has to offer.
Fascinating Fact: The Hydraulic braking system was originally going to use water and not oil, which was later to become unique to this lift. To this day the brakes of this Cliff Railway are still fully water-powered.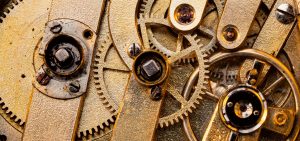 Are we there yet? The Washford beacons are a sure sign that the start of your holiday is tantalisingly close. The Grade II listed studio hall (now Tropiquaria Zoo) still bears the BBC emblem and motto 'nation shall speak peace unto nation'. Tall aerials, transmitting a variety of TV, Medium Wave Radio and cellular services dwarf the station. At night, bright red LED lights illuminate the antennae, which are visible for over 25 miles.
Opened in 1933, the station was incredibly important during the second world war. It carried Home Service programming and later similar content for South Wales. Originally, it was going to fill a gap between other transmitting stations. Despite this, even with a higher power output, it never managed to distribute its coverage as planned.
Still in operation today, Washford is a milestone on your journey from the M5, but also plays an important part in radio history.
Fascinating Fact: The older radio apparatus at this site was once able to heat the entire studio premises and provide hot water for all staff!
Fancy finding out more? We've got more to come in part two of this series
If you're enjoying this exploration into the Victorian era of engineering in Exmoor, then be sure to check in for our next chapter. We return closer to home to share with you the history of each of our Exmoor Character Cottages.  We then travel further afield to visit:
The Lynton & Barnstaple railway
A hydroelectric station in Dulverton
The unlikely home of the automatic wristwatch in Dunster
Please also discover other reasons that make staying at Exmoor Character Cottages such a pleasure for our guests!