'Will Washington take America, or smuggling take England first?'
If you know Exmoor's stunning Jurassic coastline, you won't have failed to notice how remote and inaccessible it is in parts. One might say it's an inspirational setting for smuggling in the British Isles…
If you're staying in one of our luxury Exmoor Character Cottages, it might fascinate you to discover the covert (or perhaps overt) activity that was once rife in this area.
Smuggling in 18th century England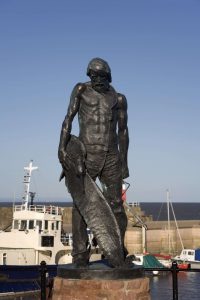 Previously, Exmoor residents were reliant on the sea to move around, sailing from the harbours at Bristol or Watchet, Minehead or Lynmouth and then on to land. In the 18th century, when global trading was at its peak, Bristol handled the majority of England's transatlantic trade. And that meant contraband. Smuggling was happening here from the time of Charles II in the seventeenth century to well into the nineteenth, with the height of activity between 1750 and 1830.
Sailors lose legitimate work but find a new source in smuggling
During these 80 years, smuggling reached epic proportions in Britain, so much so that some say it was the size of a national industry. This time also coincides with the decline of the herring fishing industry in Minehead. With so many skilled local sailors out of work, it is little wonder that some turned to smuggling.
Why Exmoor made for perfect smuggling territory
In Exmoor, with Watchet boasting one of the world's deepest harbours, and Minehead with its bustling quays, this part of West Somerset became a mecca for trafficking – by sea and by land. There are so many beaches and coves, remote farmhouses and deserted roads. Covert activity involved locals of all social classes moving tea, tobacco, wine, brandy, rum, spices, greyhounds and even immigrants around Exmoor and Somerset. Little wonder then that by 1807 the Royal Navy was dispatched to Exmoor to police the waters around our craggy coastline.
Think Peaky Blinders rather than Jack Sparrow
Today when we think of smuggling in the British Isles, we may romanticise images of handsome pirates with pieces of eight, parrots and Jolly Rogers. In Minehead and Exmoor, it was a dangerous activity, punishable by death. Think Peaky Blinders with a healthy dose of bribery, corruption, intimidation, bullying, and violence. Despite the risks, night-running was rife in Exmoor, an occupation of not just the poor looking to supplement a meagre income, but by the wealthy too – including some members of the Luttrell family, who are synonymous with Dunster. Smuggling meant avoiding the customs taxes, harbour fees and Quay charges that the inspectors at every port would collect.
The Luttrells, the police and customs officials – smugglers, the lot of them!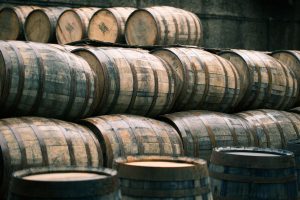 As the Luttrells owned many of the quays and harbours in the area, what they gained on illegal trafficking must have been significantly more than what they lost in duty fees.
One documented example from 1681 gives an insight into the murky world of smuggling. One night, local stonemason, John Fry, spotted a ship with significant cargo sail into Minehead harbour. On that first night, 30 large barrels (known as hogsheads) of spirits found their way to merchant Thomas Wilson's cellar.
The following night even the local PC Elias Blake was spotted helping unload the contraband to get it to a local alehouse! All this came to court, and none-other than Thomas Luttrell stepped in in order to bribe customs officials to keep his name out of the case. Read more historical accounts of smuggling activity from officials and locals.
Smuggling in the British Isles – yesterday's evidence visible today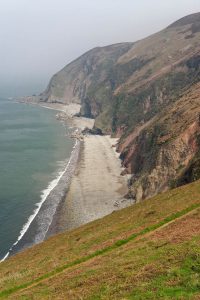 There isn't a huge amount of evidence of smuggling today, but there's some:
We have written records of lamps hanging at Greenaleigh Farm – near our holiday cottage Pilgrim Corner on North Hill – as to guide the loaded ships to shore.
Many hiding places existed at Porlock Weir, a hive of night-running activity.
At nearby Higher Doverhay Farm there was a hide between and inner and outer wall to store the contraband – and many of these exist in the older, remote farmhouses across Exmoor.
We have the Smugglers' Inn in Blue Anchor, an infamous and dangerous beach for landing illegal cargo (and said to be haunted by those who lost their lives in the pursuit of 'free-traded' goods).
There's a Brandy Path in Countisbury, on the A39 to Lynton. If you look out from this beautiful spot on a clear day, you can see right across to the Gower Peninsula in Wales.
Finally, if you ruled a line on a map across the Bristol Channel, you might reach land at Brandy Cove. I'm not saying there is any direct link with a smugglers route across the water to Wales, but it certainly is a coincidence. Or is it?
Has smuggling in the British Isles piqued your interest in Exmoor? Rightly so. Why not contact us and see if accommodation is available? And don't worry, we won't be imposing any taxes should you want to pack your favourite tipple!