Guest David Oxendale shares with us his list of the best Exmoor pubs and what makes these establishments so welcoming, warming and the best watering holes around. We hope this inspires you to venture out and enjoy a tipple and their charm!
A rare treat in 2020 – an Exmoor pub crawl as a designated driver
The beach at Minehead, Porlock Hill and Exmoor's windswept landscape engender such amazing childhood memories for me. For instance:
The noise of pelting rain on the car roof
My face 'painted' by Mr Whippy ice cream
Childhood tantrums exacerbated by aching feet
…They are just a few memories burned into my mind!
In later years I became (possibly too) familiar with the Inns and Pubs of Exmoor. These cosy bastions of red-faced, smiling locals and effervescent victuallers were a sight for sore eyes after a long journey on the M5.
Now, I'm firmly in middle age and frequently act as the designated driver for friends and family. As a result, I've become reacquainted with a few Somerset and Exmoor pubs.
In other words, thanks to my newfound freedom behind the wheel, I'm able to sample 'the local' a little further afield and enjoy hidden gems in hamlets, villages and towns across the area. I may even enjoy socially distanced food and drink in the heart of Exmoor! So, which watering holes do I recommend you seek out?
Within walking distance – The Old Ship Aground on the Quayside in Minehead
Formerly the Pier Hotel, this iconic hostelry stands proudly aside Minehead's historic harbourside adjacent to the slipway and RNLI station. In summer months, bright and beautiful flowers adorn the façade, where one can sit outside and enjoy a pint or three!
Inside, the traditional inn has plenty of space where you can enjoy a hearty meal, a drink in front of the fire or even live music. It's within 10 minutes' walk downhill and a stout 15 minutes' walk (or short taxi ride) back to our Minehead cottages.
Book a table online at The Old Ship Aground.
A popular choice for locals and visitors – The Foresters Arms in Dunster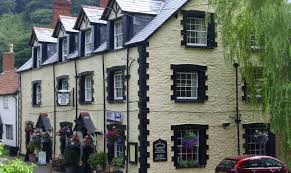 The Foresters Arms, run by friendly Pat and Colin, has out-survived many local hostelries. This is thanks largely to it being a good old-fashioned coaching inn. It features all the hallmarks of a top establishment; great ale, good food and a foul-mouthed parrot called Nelson! On cooler days, the roaring wood burner offers a cosy welcome. There's even a pool table (if you fancy challenging the local league players).
Give them a call before travelling to check their opening hours and to book a table.
Visit The Foresters Arms website or call 01643 821 313.
In the wilds of Brendon – The Stag Hunters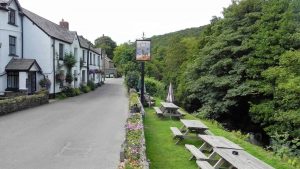 This cosy, friendly and traditional inn lies off the beaten track in the tiny hamlet of Brendon. Around five minutes' drive from the A39 at the heart of Lorna Doone country, there are warm and cheerful spaces indoors. Seating overlooks a lovely stream outside.
Real ales, hearty meals and complete peace in this north Devon inn mean that I can recommend it in any season.
Visit The Stag Hunters online or call 01598 741222.
There's nothing dull about Dulverton – especially at The Bridge Inn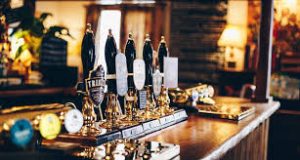 This friendly pub sits a stone's throw from the river Barle in the welcoming small town on the southern fringes of Exmoor. It is always busy and regularly fully booked for dinner. Locals and visitors flock to The Bridge for its well-kept ale, fine wines, 20 different gins and great locally sourced food.
Parking is safe and easy, and there are two open fires which are just the ticket on a chilly evening. You may even catch one of the regular charity pub quizzes which are a real joy.
Visit The Bridge Inn website or call 01398 324130 to book in advance.
Muddy boots and wet dogs are welcome in Countisbury – The Blue Ball Inn
Another busy inn, The Blue Ball is at the side of the A39. It is close to the bustling north Devon twin towns of Lynton and Lynmouth. This characterful establishment dates back (possibly) to AD878. On dark, dull and (often) windy days, this place feels incredibly atmospheric, where one can feel the history inside and out.
The Blue Ball is famous with hikers, coast path walkers and visitors who just want to savour the awe-inspiring vistas. This pub isn't the quaintest on Exmoor, but is a must-see.
Visit The Blue Ball Inn website for table availability or call 01598 741263.
The Royal Oak, a quintessential village Inn – in Winsford
The Royal Oak in Winsford is actually called the Royal Oak Exmoor. This is in order to set itself apart from several other 'Royal Oaks' in the area. At the heart of the bucolic Exmoor village of Winsford, this thatched inn oozes charm.
Whilst not currently operating as a 'walk in' Inn (October 2020), one can book a table to enjoy fine home cooked fare in a cosy, welcoming environment.
Visit the Royal Oak website or call to book on 01643 851455.
Can you help find our area's favourite local?
I hope you find my selection of inns and pubs a welcome treat when visiting the area. Why not tell us about your favourite pub in the area – we'll give it a try and mention it on future blogs and on our social media pages!
The Exmoor pubs, inns and eateries are just one of so many reasons to visit the area and use Exmoor Character Cottages as your base. See when our cottages are available, or contact us for more information.