Stay in one of four luxury holiday cottages in Exmoor National Park
When you hear the words 'Exmoor National Park' perhaps you think of windswept moorlands and rugged coastlines. Or maybe the romantic Lorna Doone Valley and herds of Exmoor ponies wandering the roads that criss-cross the stunning landscape. Don't forget to add some fabulous local produce served in the pubs and tearooms of one of England's smallest National Parks. Indeed, you'll find plenty of reasons to stay in our holiday cottages in Exmoor National Park. So, let's start planning your great British coastal getaway, shall we?
Luxury cottages in Exmoor National Park
Each of our unique 5-star retreats combines charming, historic original features with high-quality furnishings and fabrics. Alongside the original period features such as exposed beams, large fireplaces and 'squint' windows, you'll find all the mod-cons and comforts you expect from such beautiful holiday cottages to rent. There's indulgent bed linen and bedding and ultra soft towels in all the cottages. After a refreshing night's sleep in our super-comfy beds, you'll open the front door each day to the sights and sounds and new adventures that Exmoor National Park has to offer.
Exmoor National Park's Landscapes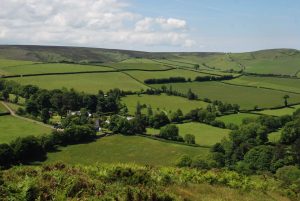 Over thousands of years, nature and people have shaped these 267 square miles of National Park. Although it is small in comparison to other protected reserves in the UK, it is rugged and remote. In fact, you can travel by car or walk for miles without seeing a soul. Whichever way you turn, the scenery is breathtaking. Little wonder then that this landscape inspired the Romantic Poets Coleridge, Wordsworth and Southey. There's huge variety too, from ancient woodland full of lichen-laden trees to moor and heath to marshland.
Exmoor National Parks Animalscapes
With such a huge range of terrain and conditions, it's little wonder that wildlife fill the land, sea and air. Keep eyes opened for red deer and ponies for which the park is famous, or rarely seen mammals like otters and beavers. You'll also find birds of prey and wading birds, as well as protected butterflies and bats. Many of our guests choose to follow the routes in our own Little Book of Walks to spot flora and fauna. Some are even lucky enough to see a herd of red deer or a solitary stag. Why not opt for a 4×4 safari with Andrew Turner to really see the park like an adventure-loving local.
Exmoor National Park's Seascapes
Many of the artists who live and work in the villages across Exmoor capture the beautiful and dramatic coastline. Local to our three Vicarage Road cottages in Minehead is the start of the South West Coastal Path which hugs the coast to Combe Martin in the West. This spectacular coast, with the highest sea cliffs in England, was one of the reasons why Exmoor was designated a National Park in 1954. The Jurassic coastline holds many secrets, and eagle-eyed walkers at Kilve, Bossington or Blue Anchor beaches often find fossils.
Exmoor National Park's Skyscapes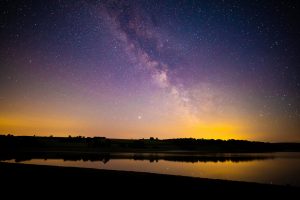 Exmoor is the darkest National Park in southern England, with 92% pristine dark skies. That means on moon and cloud-free nights, our guests enjoy superb, spine-tingling views of the heavens. This is such a special experience for all ages, to see the constellations and wonder at the stars above us, that we offer an evening with a local astronomer in the winter months. We're an Exmoor Dark Sky Friendly Accredited Business so we can help you with all things stargazing.
Escape to Exmoor National Park with Exmoor Character Cottages
If your group is a party of up to eight, stay in our quintessentially English thatched cottages, Pilgrim Corner  and The Old Sweet Shop. Each charming holiday home sleeps eight, has a wood-burning stove and boasts a state-of-the-art hot tub in the garden.
If your party numbers up to six, then choose the modern, architect-designed open-plan Stone Barn right in the centre of a quiet local conservation area. Or for an entirely different experience, step back in time at our oldest and much-loved cottage, 'The Oval', built in 1366.
Stay for a long weekend, a mid-week break, a seven-night stay or longer. Your fur friends are welcome at all our charming cottages. All have outdoor spaces and gardens, with plenty of seating for al fresco dining as the days get longer.
Pull on your wellies and grab the binoculars, and head out on tour. Find out our availability or contact us with more questions.