Beach holidays in the UK are a lot easier and faster to reach than the Bahamas! The shorelines along West Somerset and North Devon's coasts are spectacular looking, yet an oasis of calm. With fewer visitors than the larger English seaside resorts, you'll find the perfect getaway here.
Roll out your towel, unfold the deckchair or pick up a paddle – all without scrambling for space. If you're dreaming of beach holidays in the UK, take a look at some of our favourite coastal destinations in Exmoor:
The seaside at Minehead beach – just 10 minutes away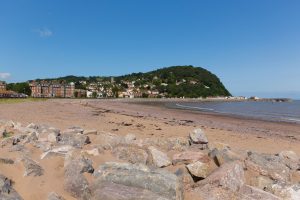 Within 10 minutes' walk of our Minehead cottages, our self-catering rental cottages really do offer a perfect UK holiday by the beach. Minehead beach is the stuff of childhood memories, packed full of fun and frolics.
Enjoy a 'Mr Whippy' ice cream and spend a penny or two at the arcades. Grab some candyfloss or fish and chips from the beachfront kiosks and shops. What's more, this beach is remarkably clean and dog friendly.
Discover the wide expanse of shingle and sand at the beach, a firm family favourite. From end-to-end, you can walk for almost three miles on this north/east facing beach and promenade. Furthermore, you'll love the stunning scenery on North Hill as a backdrop.
Culvercliffe and Quayside beaches
Enjoy the sea and harbour views at Culvercliffe and Quayside. Take sightseeing and fishing tours in the summer months. A little further along the south west coastal path, you'll walk amongst historic sea-houses.
The boss of all beaches at Bossington and Porlock?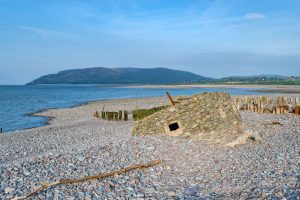 Welcome to underdeveloped and expansive shorelines. Indeed, the shingle beaches between Hurlstone point, Bossington and Porlock Weir are the perfect place for windswept walks with the dogs.
With relatively little sand, and where the sea tends to stay a long way offshore, these are perfect seaside getaways from rambling and exploring. The undercurrent is too strong to swim safely here. So, make this stretch of coastline part of a walking tour around the local area. Sup a pint of the local ale at the twin 'Ship Inn' pubs at Porlock.
At Porlock Weir, you'll find the hustle and bustle of a small harbourside with its independent shops, delightful cafés and restaurants. You'll even discover a 'smiling' pillbox on the beach – an Instagram landmark of international repute!
A sea view is restorative and relaxing at Heddon's Mouth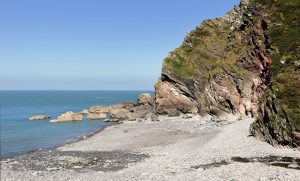 Think gentle lapping of waves and seemingly endless vista at the coast. Visions like this are medically proven to engender calm and improve psychological health. They're certainly what we're looking for from our beach holidays in the UK!
Heddon's Mouth is a gently sloping shingle beach reached via a short wander through enchanting woodland. With shallow, warm waters and sheltered bathing, this beach is simply perfect for families, dogs and adults alike.
After a day soaking up the sun and enjoying the clear waters, rehydrate at the nearby Hunter's Inn. This is one of Exmoor's iconic hostelries serving good food and drink. What's more, you can return home via the historic toll road to Valley of Rocks near Lynton.
Find more than you expected at Watchet
Watchet is Somerset's trade town. It boasts an ancient harbour that played a vital role in the industrial revolution. Next to this thriving town and accessed via a short clifftop walk is Watchet beach. It is formed from Jurassic rocks forced from a geologic fault line called the Mercia fault.
The cliffs are created from materials more akin to those found in the Sahara Desert and on Mars. Oil is never too far away from the surface. The beach is incredibly clean and full of fossil-finds, including those of Psiloceras (or sea dinosaurs).
This is a must-visit beach. Moreover, it's an ideal day trip for families when combined with sight-seeing in Watchet and/or the Tropiquaria Zoo.
Beach holidays in the UK … Or in Little Switzerland?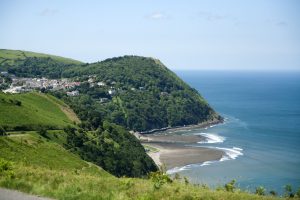 The twin villages of Lynton and Lynmouth are commonly known as little Switzerland. The world-renowned Cliff Railway connects them. This joins the cliff-top Lynton with the esplanade and beach in fewer than five minutes. That's a drop from 500 feet right down to sea level by funicular.
The shingle and pebble beach at Lynmouth is long and narrow. Divided by the River Lyn, which cascades through the village, it is one of Exmoor's must-see beauty spots.
With excellent surfing, SUP paddle boarding, fishing and deckchairs for hire, this is an old-fashioned UK holiday by the beach – with a twist. Find your seaside happiness by relaxing or something a little more energetic.
Beach holidays in the UK – for anyone and everyone
All our beaches overlook the Bristol Channel, and many are gently sloping – check before taking the plunge! As a result, they are perfect places for people of all abilities and are suitable for a wide range of activities.
There's plenty of space and fresh air, and many are dog friendly. Look up the local tide times and opening arrangements of nearby services, especially in off-season months.
The beauty of Exmoor and West Somerset is that everything is close at hand. As a result, in one day you can easily enjoy a walk on the highest cliffs, paddle in the sea and enjoy a cream tea. You can do it all, with plenty of time to spare and without the rush. Beach holidays in the UK don't have to be all about the sun and surf – there are many other enjoyments as well!
Base your UK holiday by the beach in one of our lovely cottages.